Maximalism in France
Author: Taramis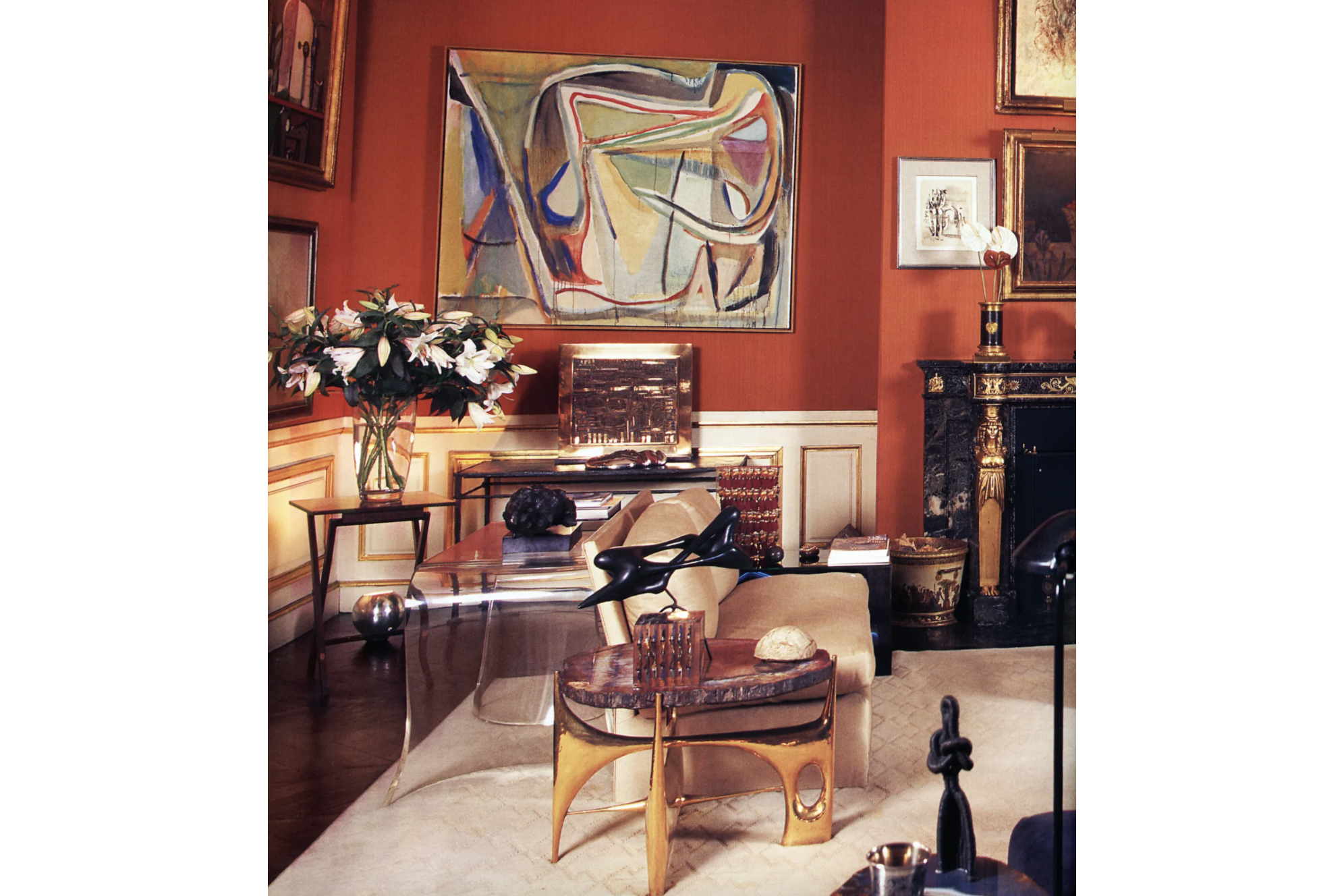 French sense of taste has been forged in Paris and handed down by artists and decorators since the 17th Century. The 17th and 18th Century witnessed an expansion of exterior as well as interior design including furniture, tapestry, small scale sculptures, metalwork and other crafts. The French Kings were very much the generous patrons these artists and craftsmen needed. By no means was this a minimalist dream. In fact- aficionados of pure lines and uncluttered spaces- beware! Opulence and maximalism is on the menu but it has to be done right or it can result in extremely poor taste.
To understand the developments in interior decoration and collecting in the 19th Century and 20th Century one must revisit the past. The decorative arts in France during the period 1640-1792 are traditionally classified into relatively self-contained compartments, corresponding to the reigns of the three Kings of Versailles. Louis Quatorze (XIV (ruled 1643-1715) style is exuberant an flamboy-ant concentrating on showing the glory , wealth and power. Furniture lines are straight and it is truly Baroque and quite masculine. Louis Quinze (XV) (1715-74) represents a softer more feminine style , the Rococo style . Furniture lines were gracefully curved and there are lots of floral motifs. Louis Seize (XVI) (1774-92) style that was the rejection to the previous era and was the beginning of Neoclassicism. Restrained geometrical forms and references to classical Greek architecture.
Even in the 19th and 20th Centuries the position of Paris as the artistic capital of the world must be traced to the decision taken by Louis XIV to employ art as an outward and visible symbol of the greatness of France. The period of decoration of Versailles marks the introduction of the Grand Manor in French interior decoration with marble, bronze, tapestries, large paintings and mirrors , painted ceilings, richness of materials. Louis XIV boosts the French luxury industry and Versailles was the showroom. Mirror glass was an expensive luxury product and was up until then imported from Venice, island of Murano. An important influence in the emerging French style of decoration was the establishment of a factory for the manufacturing of mirror glass at Saint Gobain in Picardie. The mirrors in the Galerie des Glaces, the famed Hall of Mirrors in Versailles were so grand that it set a standard . Mirrors added to the brightness of the rooms and multiple reflections of several mir-rors influenced the decoration and visual perception of the rooms. Everybody that was anybody wanted mirrors for reception rooms, boudoirs and dressing rooms. An object of vanity for some and mystery for others, with construction of the new factory mirrors could be larger at a smaller cost and eventually made their way into the French homes.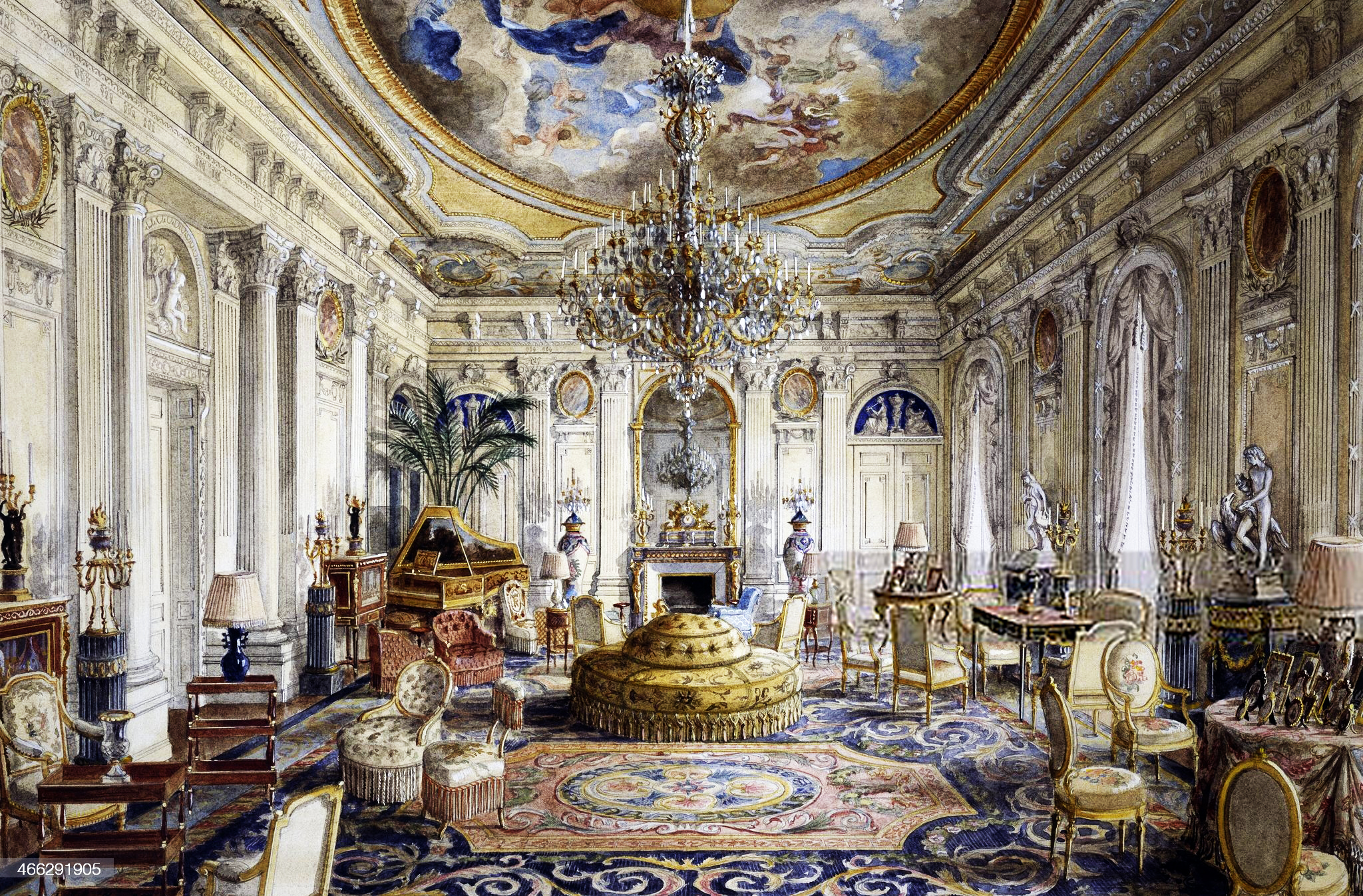 All throughout Louis XIV, Louis XV, Louis XVI and Empire style the emphasis was on the patron-age of the Kings and Emperors alike but it started becoming an example for others . The Financiers rather than the noblemen started investing in works of art not only as a symbol of prestige but also as an investment. Much of the unwanted furniture at the Court would en up in smaller chateaus or would be given as gifts to other nobleman from the King. As fortunes began to change private châ-teaux were being sold with all their furnishings as well. The market for antiques did exist in the 18th Century and Old Master paintings were popular. People mostly bought current items and natu-ral history curiosities. Auction house Christie's did a series of sales in 1795 for much lower cost of what they were bought.
It is no surprise that in the 19th century to see the true beginnings and transition in the style that was created by the banking Rothschild family. The family started buying pieces after the French Revolution. One could find and buy many pieces from Chateau de Versailles. They bought original fireplaces, ceilings, doors, panelling and reused them in their newly built castles. In particular Châ-teau de Ferrières , outside Paris, built between 1855 and 1859 by baron James de Rothschild was to become hugely influential for interior decoration amongst the American Industrialist dynasties when it came to building their own homes. Many French chateaux contents were stripped by American buyers and transported in the US. Château Ferrières along with the Rothschild family's Paris residence Hôtel Lambert influenced influenced many fashion designers and interior designers in the decoration of their own homes. A mixture of extravagant and rich fabrics, parquet floors , rare books, plants, flowers and all sorts of acquired curiosities. Over all the effect was one of maxi-malism and grandeur.
One of the most adept interpreters of the Gout Rothschild was Interior decorator Henri Samuel. He restored the Rothschild's famed chateau de Ferrières in 1950's and having worked in the restoration of Versailles he was firmly established as a master of the historical interior. He took history as a ref-erence and mixed contemporary design with the classic. Rooms were classically articulate and filled with experimental pieces. He received the ultimate education working for Maison Jansen, Par-is based interior decoration company and antiques gallery founded in 1880.
Elsa Schiaparelli , the famous French fashion designer and The Queen of French eclecticism moved into her property in Paris in 1937. She was the greatest rival and was regarded as one of the most prominent figures in fashion in the 1920's and 1930's. As in her clothes she pursued a more idio-syncratic style in her home. Curvaceous furniture, upholstered scarlet and lilac furniture were paired with her collection of 18th century , Surrealist and Cubist Art. Wood panelling of the grand salon was covered with a 18th century tapestry and bookcases on each corner. Above the simple fireplace in marble lays a large mirror. Bird cages, glass domes, screens and were part of her eclectic collec-tion .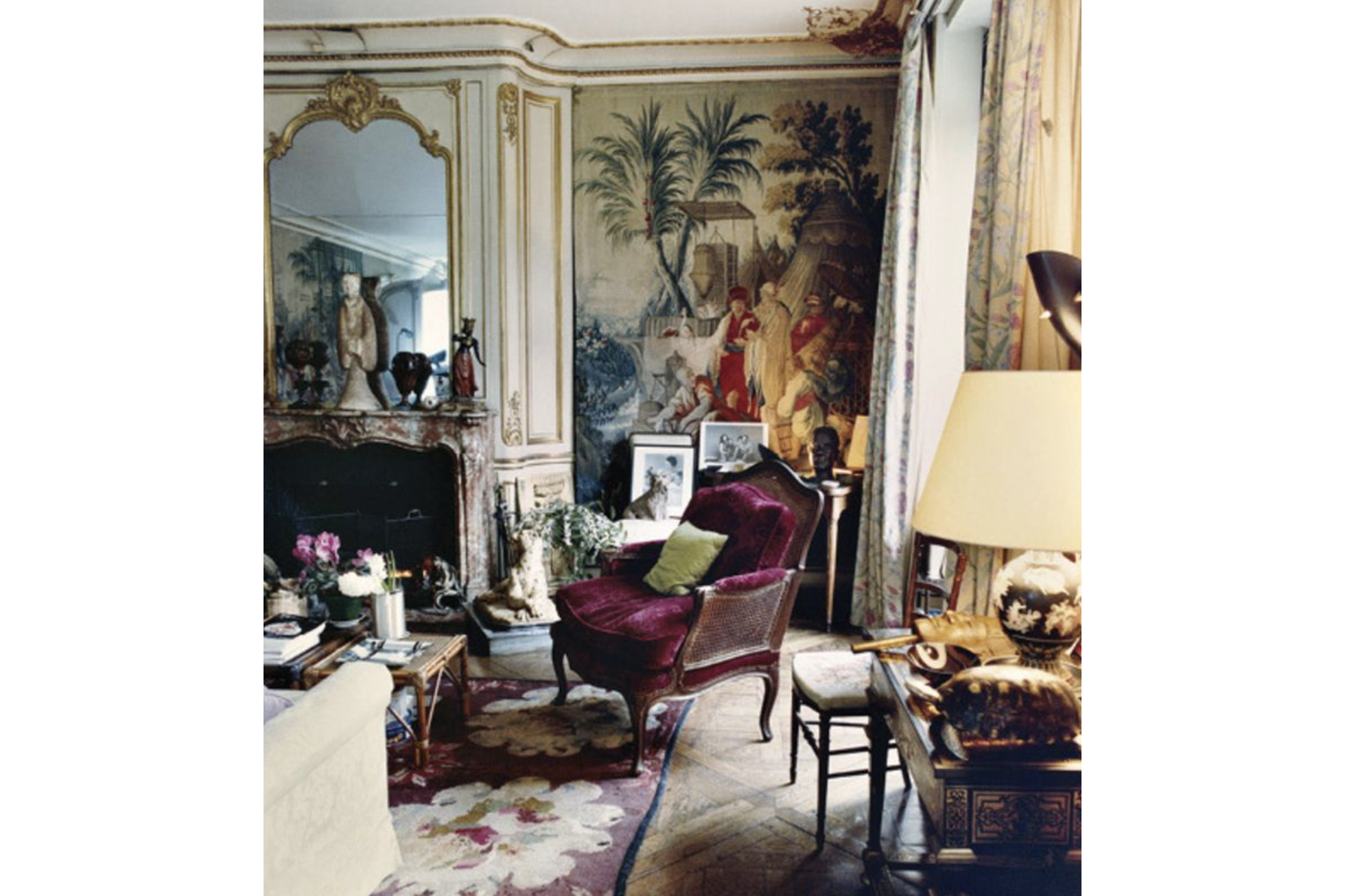 YSL and Pierre Berge have really stood out both in terms of fashion and particularly interior decora-tion and antiques collecting. Yves Saint Laurent was undoubtedly the greatest couturier of the sec-ond half of the century. He created many of the staples of the modern woman's wardrobe and popu-larised looks that included the smoking suit, the safari jacket and the luxury beatnik style. Taste is an important preoccupation in certain circles. In France somewhere it is equal to religion. Amongst Saint Lauren's contemporaries taste remained a vital preoccupation. Hubert de Givenchy amassed a rare collection of 18th Century furniture and art objects and Karl Lagerfeld collected rare 18th Cen-tury French furniture and Art Deco. Saint Lauren create a style in this clothes and he did the same in his lifestyle , in his homes. Yves and his partner Pierre Berge were heavily influenced by the past, especially by the Rothschild homes. The home that most resembled this opulent Rothschild style was Chateaux Gabriel in Deauville. Grand high ceilings , rich materials, grand fire places, painted walls, thick, opulent fabrics, formed a perfect contrast with the Napoleon III furniture and other unusual and fantastic objets d'art. The help of iconic French decorator Jacques Grange was sought.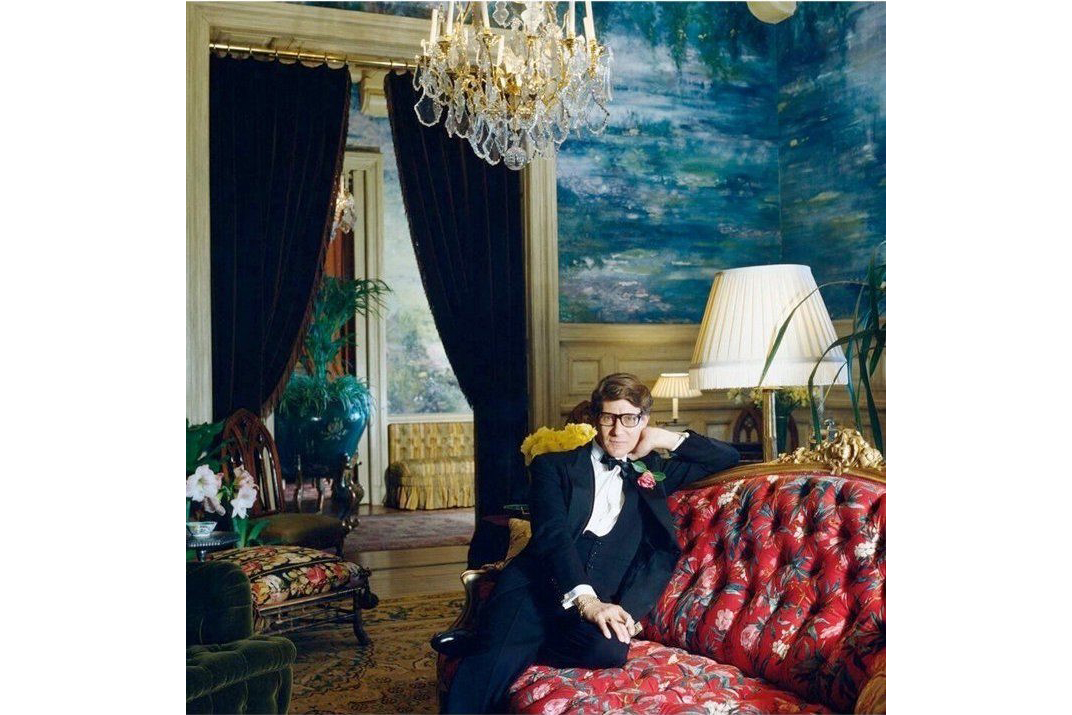 Coco Chanel's studio in Paris demonstrates once again the French eclecticism. French classic furni-ture is mixed with antiquities and other objects coming from Italy, China, Japan (at the time it was really exceptional to mix Orient and Occident) all organized by an accurate symbolism influenced by her superstitiousness. Crystal balls ,religious symbols like the cross, the Bible and Buddha icons and a couple of bronze deers mixed with an elaborately framed mirror over the sofa.