1970's Collectible Design
Author: Taramis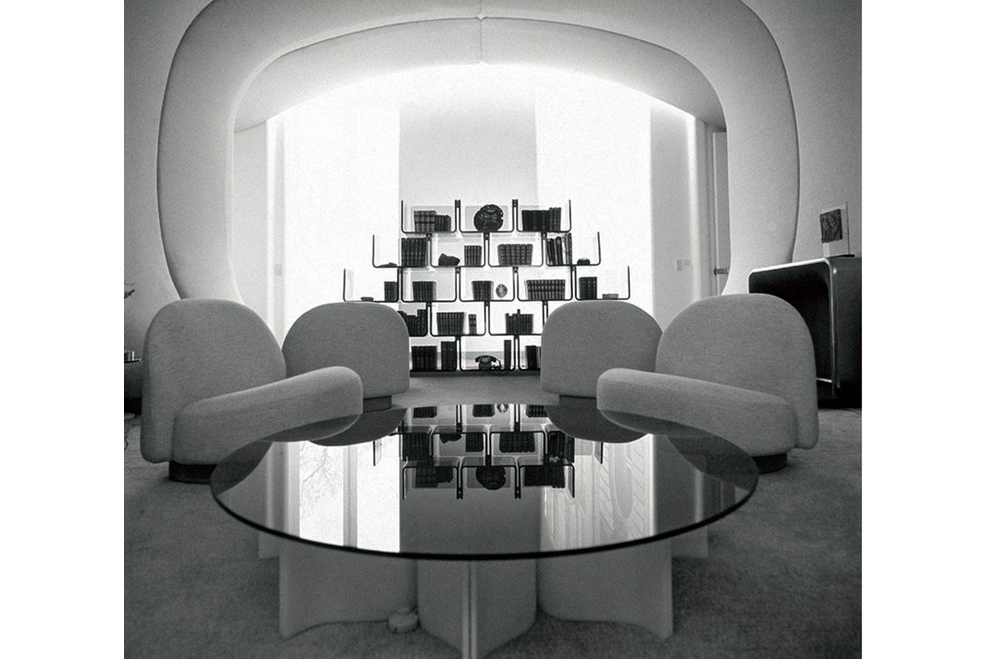 The 1970s were, arguably, a culmination one of the most inventive eras in French and Italian design. It's a decade that saw the liberation of design where older rules were ignored. Unorthodox space age and new designs loosened the stiff conventions of mid-century modernism and a new glamour was born. These iconic designers have left a legacy and their designs are very much in demand today and are highly collectable. Their value remains stable and would be considered good investments. Pierre Paulin, whose 'Mushroom', 'Orange Slice', 'Tongue' and 'Ribbon' chairs have become part of the contemporary furniture canon are a prime example of this new trend.
The freshness and modernity of his designs likely encouraged the collaboration between Paulin and the Mobilier National, the government agency overseeing the French national furniture collection. This in turn prompted President Georges Pompidou and his wife, to enlist his services in remodelling the private apartment of the Élysée Palace. These designs possibly resisted ageing because they are so comfortable-he has created seating that makes you feel good. In fact at the moment his designs are having a Renaissance.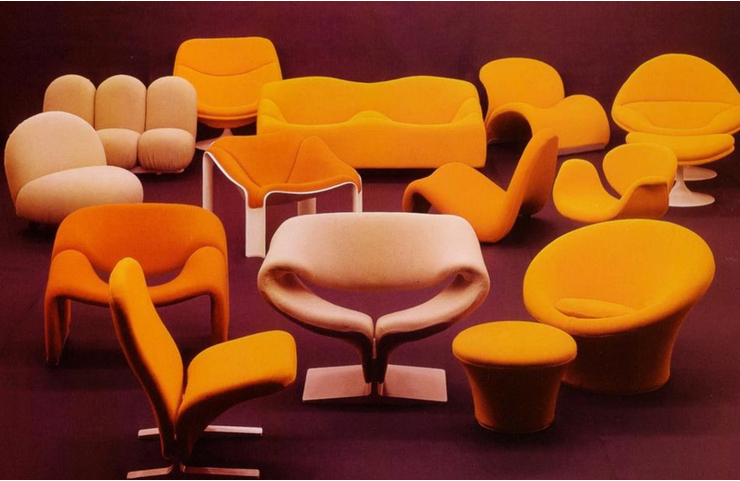 There are mythical creatures that haunt the design imagination of the 1960's and 1970's. Partly because of her stature and beauty Gabriela Crespi stands out amongst the designers. Gabriela Crespi's early objects were commissioned by the fashion giant Dior for their gifts department. Her design pieces have been appreciated and owned by public figures such as King Faisal, the Shah Reza Pahlavi, Grace Kelly,George Livanos, Thomas Hoving, Audrey Hepburn, Gunter Sachs. They are highly collectable today. Between 1972 and 1975, she designed the "Quick Change Sofa", the "Z" line ( "Z Bar," "Z Desk" ) and the "Rising Sun" bamboo collection, one of the pioneers material much loved by Crespi. The famous "Fungo" lamps (1973) are part of this collection.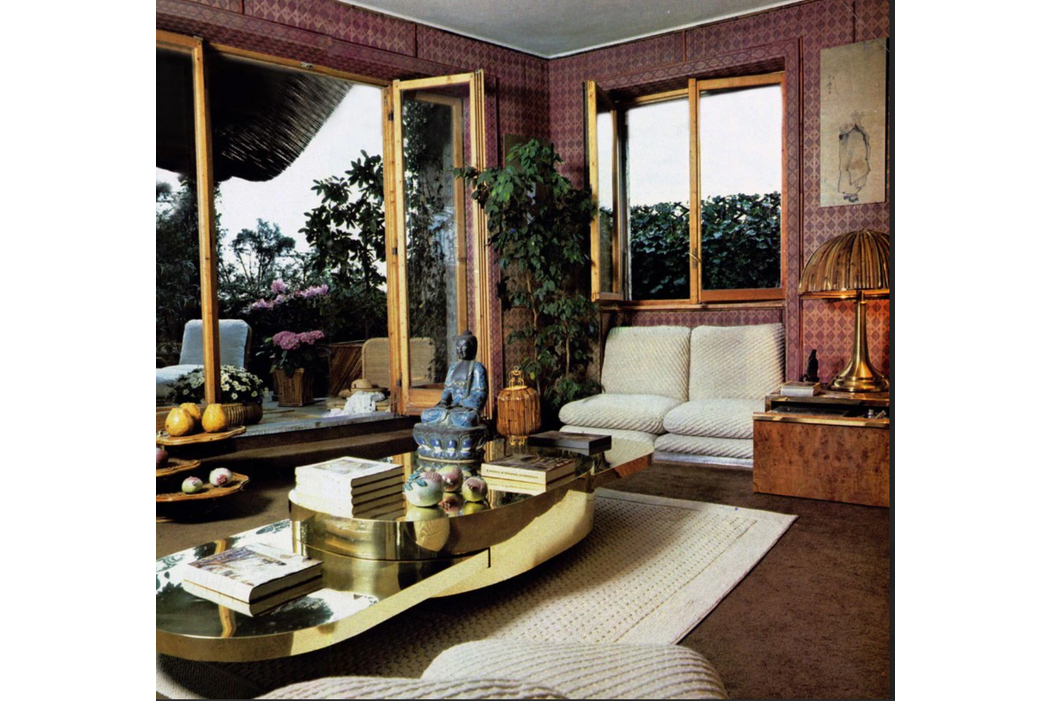 Willy Rizzo was uniquely placed as a designer for the Dolce Vita, being himself a part of the world for which he was designing. Salvador Dalí commissioned a number of pieces, as did Brigitte Bardot for the interior of La Madrague in St. Tropez. By 1968, Willy's work was in constant demand, leading to the setting up of his own firm and the establishment of a factory just outside Rome at Tivoli. Over the following ten years, Rizzo designed and produced more than thirty pieces of furniture, including the famous steel-banded travertine dining tables and bronze table lamps, all of which were handmade. He opened boutiques across France and Europe and had points of sale in New York City, Miami and Los Angeles. However, in 1978, Rizzo gave it all up to return to photography, his first love. Today his Elliptical marble table is exhibited at MoMA in New York. Among Rizzo's most successful designs are many low, box-like tables in granite, metal, glass, or burled wood, often embellished with brass or chrome accents or built-in liquor cabinets or traysTwo examples of his most celebrated designs include the Alveo Coffee Table (1970s) for Mario Sabot and the circular Yin Yang Coffee Table (1970s).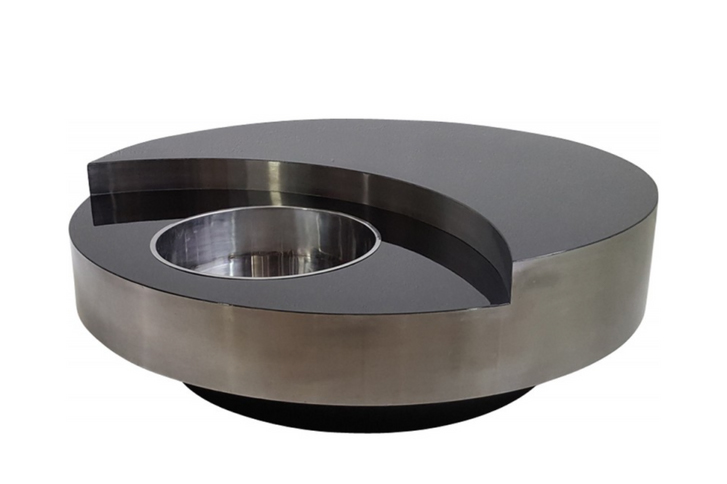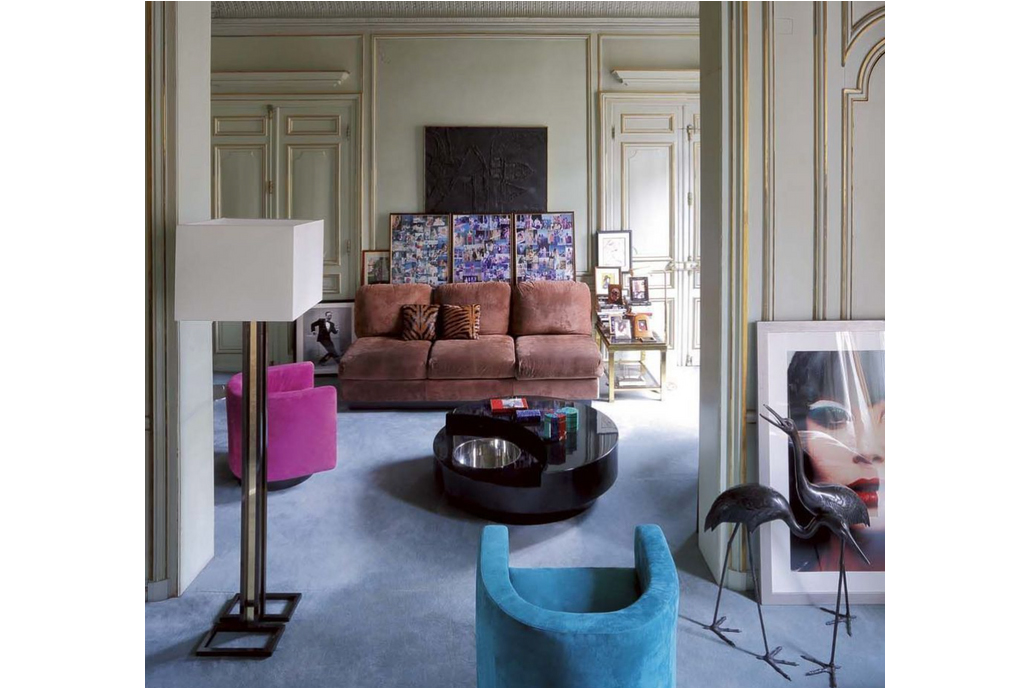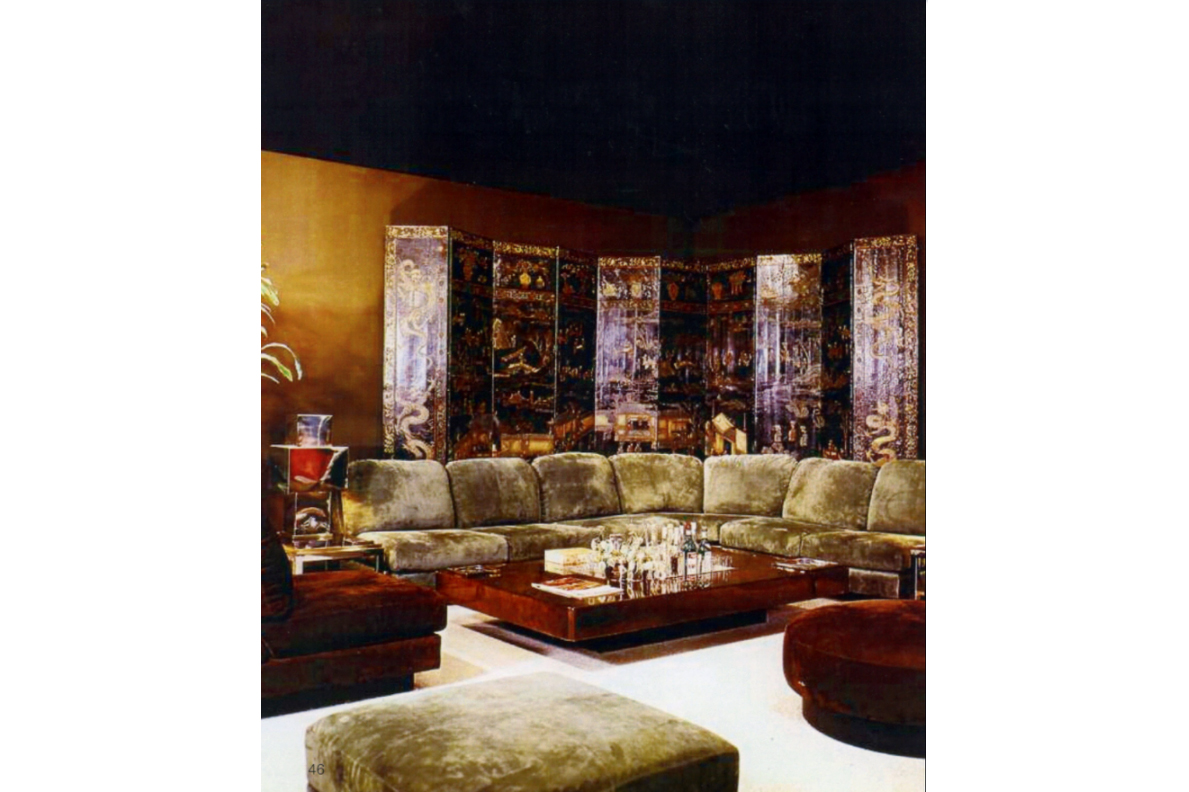 Ettore Sottsass wan an architect and designer. He was labeled the godfather of Italian design. Fashioned from slick, vacuum-moulded plastic and cast fiberglass, it was part of the brand's mission to bring novel industrial materials—which had already revolutionised nautical and automobile design—into the home. The radical range was produced in a very limited edition, with one exception: the neon-lit pink mirror called Ultrafragola, or "the ultimate strawberry." A widely circulated image on social media this mirror is highly collectible now days. It celebrated femininity—the curves of a woman's body; the waves of her hair. Women the world over have embraced the mirror, still made using the original 1970 mould.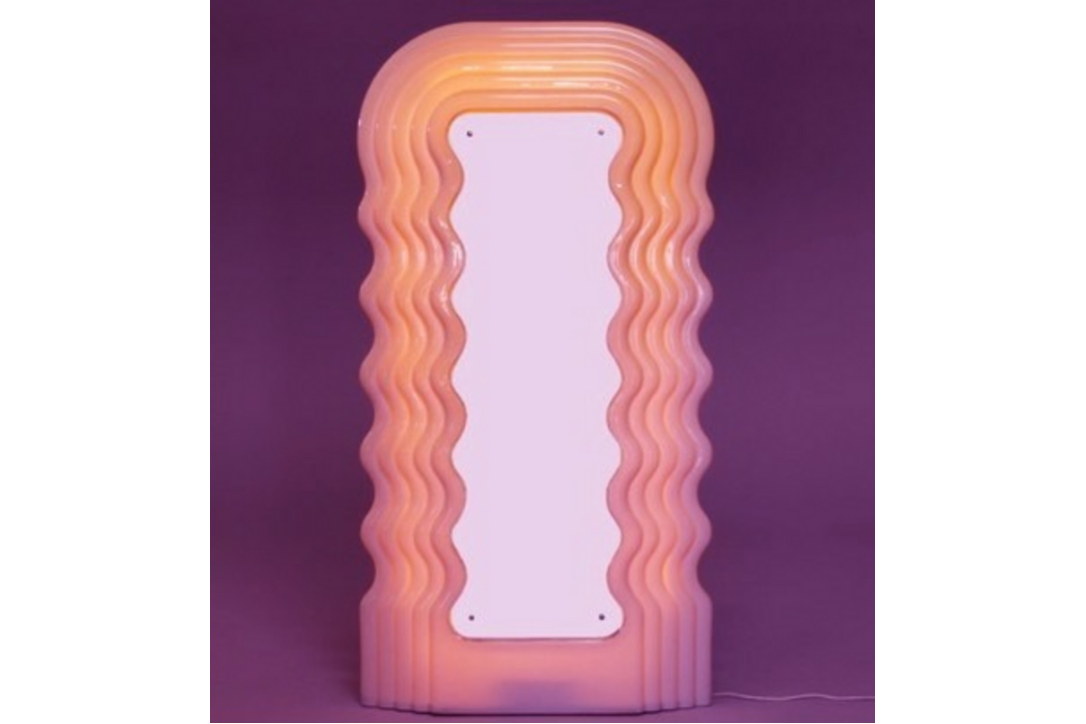 Maison Jansen is another design studio that in the 1970's produced one of my favourite set of collectables of all times. They were produced in brass gold in France or in Italy and demonstrated glitz and luxury which was very much a reminder of old Hollywood glamour. They became very popular with the international jetset. One of the line of furniture that they produced was signed by Alain Delon. The history of Maison Jansen is very rich since it was the first international interior design firm that was founded in 1880 in Rue Royale in Paris. The founder Jean Henri Jansen was the first so called "dealer" to carry everything necessary to furnish a home. Customers include Duke and Duchess of Windsor, Agnelli's, C.Z Guest and Jackie Kennedy worked with them to remodel several rooms in the White House. Their furniture and objets d'art are very much in demand and highly collectable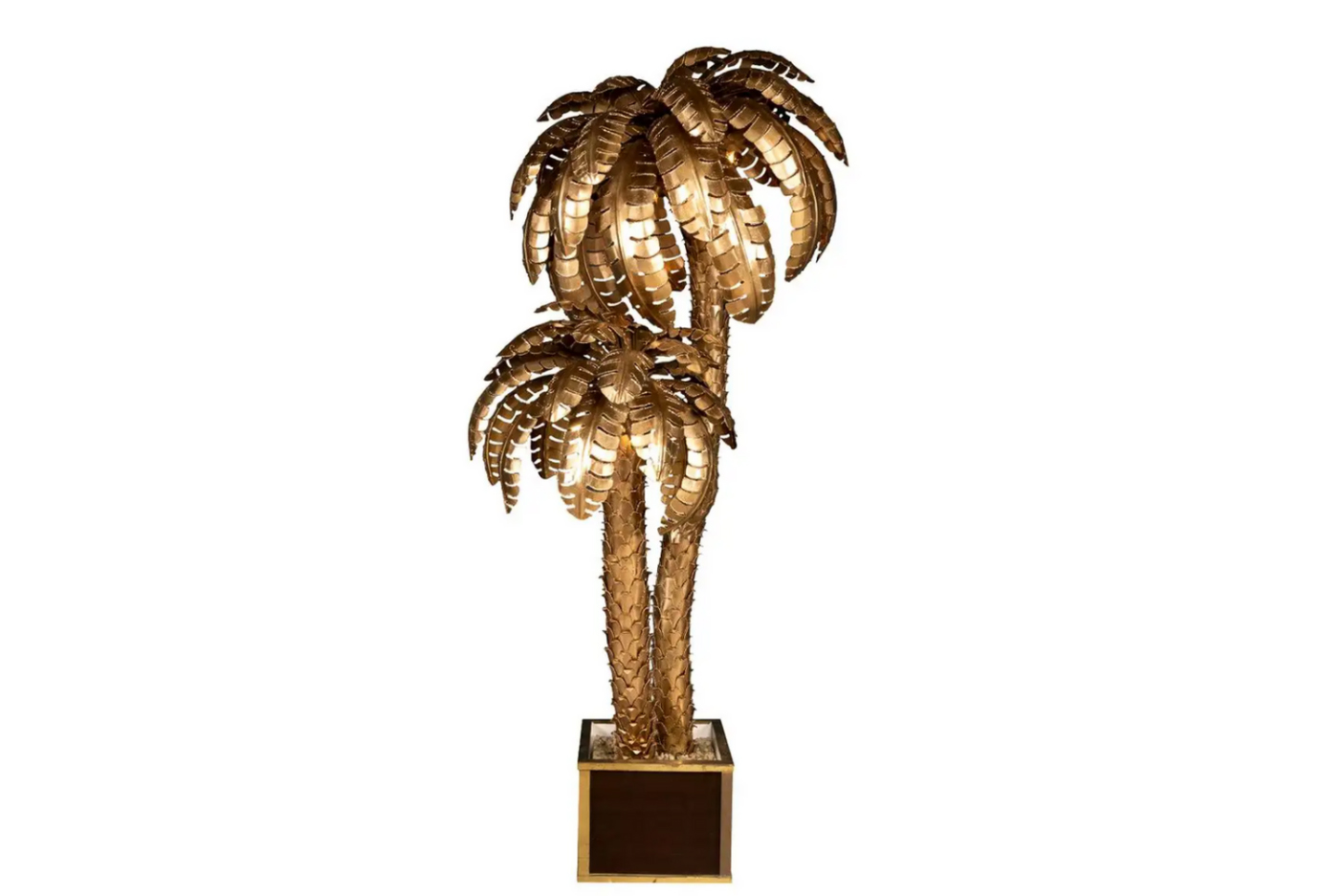 Maria Pergay is best known for her unique use of stainless steel in producing tables, belt buckles, decorative artefacts, chairs, and daybeds. Pergay's pieces often feature organic shapes such as waves, rings, and shells.Over the years, Pergay has continued to create for her own pleasure, exhibiting and selling to clients and quietly obtaining impressive private commissions for names such as Givenchy, the Shah of Iran, Pierre Cardin, Fendi, Christian Dior, Jacques Heim and Salvador Dalí. Today her work can be found in the permanent collection of the Metropolitan Museum of Art, New York, and is displayed in private collections around the world. Pergay, who has never belonged to a distinct design movement, is a mother of four with no formal training in furniture design or external financial support. Instead of following trends, she has consistently drawn inspiration from antiquity, Japanese art, and the innate nature of the materials she works with. While this individual approach may have meant that many of her pieces did not receive recognition until years after they were created, it has ensured that her work has stood the test of time.